Fortebet, a betting company is giving back to its clients! This time, Seeta customers testified that this is real when they received these gifts in their betting halls. Whoever was found at the branch and passed the very simple condition got a gift. If one didn't win a team jersey for the top European teams, he/she then won Fortebet T-shirt or a cap or a pen if not a wristband.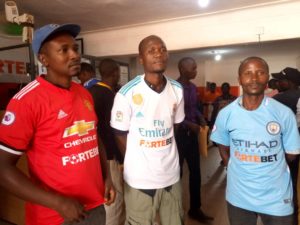 Talking to the customers that were found at the branch, most of them busy placing bets before the Saturday games started, Fortebet Media manager, John Nanyumba said that everyone was eligible to win any gift.
"Just show me your ticket. As long as it has a stake of atleast Shs2000, I am going to give you a gift instantly. There is no draw or asking questions," Nanyumba said.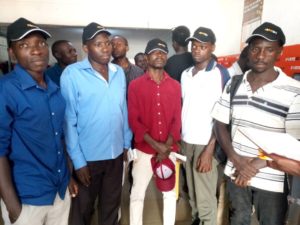 Four clients won jerseys for clubs; Manchester United, Arsenal, Manchester City and Real Madrid. Five others got themselves Fortebet T-shirts, 5 walked home with caps while 26 got either a Fortebet pen or wristband or both. Paul K, one of the winners thanked Fortebet for this first of its kind in Uganda's betting industry.
"Until this day, I had never got anything back in return and I never even expected to get anything because this has never happened. To be very sincere, you (Fortebet) are the first company to do this. Since you have given back to us, we shall also take you as our number one betting company," he said, while talking on behalf of his fellow winners. For the last two months, Fortebet started giving back to its customers by way of thanking them for making them the best home of sports betting in Uganda.
This weekend, Fortebet will give out gifts to punters in Gulu. All branches will be reached. In addition to giving out these gifts, Fortebet shall also give out a number of footballs to the young talents in Gulu to promote their footballing talents.