If you are a social media savvy, you must bumped into this photo of big-bumper slay queens who took their 'slayage' to the palace entrance. The girls, dressed like queen dancers decided to show-off their backside to the kingdom, or perhaps thank the gods for their endowment.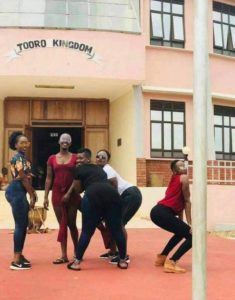 The photo attracted outrage. Usual admirers of the backside were not amused.
Well, the kingdom has come out on the controversy.  Deputy Information Minister of Tooro Kingdom Vincent Mugume says the photo indeed is disrespectful. He however stated that the kingdom and palace welcomes visitors.
"However, we expect people to be respectful of our culture and palace. We expect them to be decent in dressing and what they do while at the palace to accord its deserved respect," he wrote.
Comments
comments