Yesterday, Sunday, the 317 Members of Parliament who voted 'Yes' in the controversial age limit bill amendment,  gathered in Kiboga District on the invite of party Chief Whip, Hon Ruth Nankabirwa for a thanksgiving and celebratory ceremony.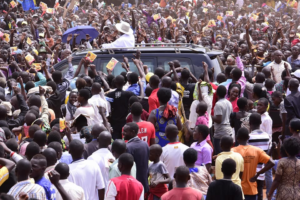 President Museveni joined the celebration which attracted a massive crowd.
In his speech, Museveni applauded the MPs labelling them historical as he said; "Let me thank the NRM legislators who recently amended the Constitution. They are the new historicals. We responded to the opposition who were provoking us with threats of "Kogikwatako".
He threatened the opposition and those intimidating NRM MPs stating that 'they will deal with them'.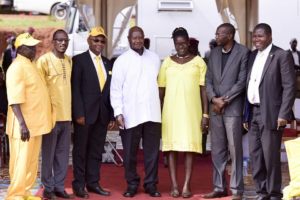 "Those who are intimidating you, we shall deal with them. No body right now can destabilize the peace of this country. Whoever wants to do it, he/she should buy poison and commit suicide," he laughed off.
Museveni stated that the amendment gave a reassurance of peace and stability to the business community.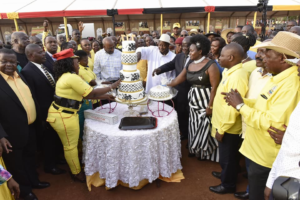 "After the amendment business people rang me to say they would invest more because they are assured of flexibility. Ugandans can now look at the whole menu; young, old, and pick their leader. I thank the NRM CEC, NEC, Caucus, district conferences, etc for ensuring we have a flexible constitution. I thank you."
Comments
comments