Goodlyfe has made a U-turn and reconciled with socialite Bryan hardly a day after announcing their fallout. According to Goodlyfe, they sat down and agreed with Bryan White on the way forward.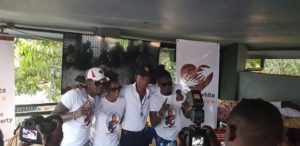 In Goodlyfe's message to fans, they acknowledge Bryan White's contribution to the family of fallen singer Mowzey Radio.
"This is a brother who have been helping Our Brother Moses Radio at the hospital and still helping the family financially,Still building Radiology's New Home to that legendary standard.As we all know, two people can't go forward unless they both agree. anyone will always fall off the rails but it takes a real brother to acknowledge and get themselves back", their message reads in part.
What's your take on this?
Comments
comments