Chairpersons of the ruling NRM party from different parts of the country have spoken out on the sharp differences between NRM Secretary-General (SG) and chairman of the NRM Electoral Commission Dr Tanga Odoi.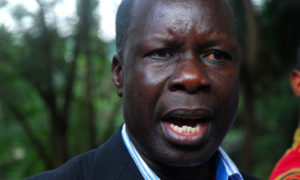 The party leaders who addressed journalists in Kampala yesterday said Dr Odoi was promoting disharmony in the party and asked the party chairman, President Yoweri Museveni, to relieve him of his duties.
The call stems from the recent statements Odoi made against the party SG Kasule Lumumba. Odoi described her as a good dancer but poor administrator. He was reacting to Kasule announcement stating that the party had sacked 419 workers over cash crisis.
However, Tanga dismissed the financial reasons for the alleged sacking and revealed that the party's payroll had been infiltrated by several ghost workers.
Comments
comments