Wig falling off is one of the most embarrassing moments a woman can face especially when in public! It's even worse when you are a Spice Diana and it happens on a live TV appearance. There are many ways to keep your wig on securely, should you feel that it is slipping out of the desired position. It really is personal preference. Here is how to navigate that.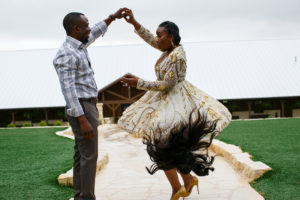 Wig cap
When wearing a wig, a wig cap does provide more security, keeps the wig clean from the oils of your scalp, and helps to secure any of your own hair up under the wig. Some may be sensitive to any pressure on the circumference of their head and prone to head aches, in which case toupee clips may feel more comfortable than a wig cap.
Tuck hair under cap
If you, should decide, to use a wig cap, place the wig cap over your hair. Stretch the wig cap over your head, either from the back to the front or from the front to the back. Tuck any existing hair up under the wig cap after you stretch the wig cap over your head. You can use hair spray or gel around your own hairline to keep your hair neatly tucked under the wig cap or wig.
Bobbie pins
If you would like to add extra security, you may insert bobbie pins through the wig cap and into your hair underneath, if applicable.
Place the wig onto your head over the wig cap. Lift the hair of the wig up to show the underside of the wig and insert bobbie pins over the mesh under the wig to secure the wig to the wig cap. Insert bobbie pins at the front, side and back of the wig to hold the wig securely to the wig cap.
Wig clips
Another method to keep the wig in place is to sew toupee or "wig clips" to the underside of the wig, which snap closed grabbing the hair on your head and holding the wig securely in place flat against your head. You may use toupee clips with a wig cap or not, as you prefer.
Stretch tape
Other options, if you have no hair or short hair, are self sticking athletic stretch tape wrapped around your head, (like a headband) , non slip elastic hair-bands or a cooling gel head band called comfy grip, which is adjustable and keeps the wig from moving around. The comfy grip can be worn loosely on the head and still works perfectly.
Comments
comments