President Yoweri Museveni has asked the people of Nebbi district to offer him five acres of land.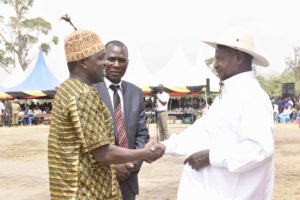 He made the request during a fundraising function for the construction of the proposed Shs2.6b St. Stephen Cathedral at Paidha held at Goli Mixed Primary School playgrounds in Nebbi district.
The president said the land is to enable him set up demonstration farms for the people of Nebbi like he did in Luweero where he established the Kawumu presidential demonstration farm. He advised the residents to use the conducive climate in the low land to practice fish farming noting that the venture is profitable.
"I have such a farm in Luweero District. I was there recently to harvest some of my produce. On the farm, I have established four fish ponds on half an acre, where I harvest up to Shs64m annually. I urge you to use the four-acre plan; plant coffee, fruits, food for home consumption, rear dairy cattle, pigs or poultry, each of these on an acre. Those in the lowlands, you can add fish farming", he stated.
President Museveni pledged Shs300m towards the project and made cash payment of Shs30m in addition to buying a heifer at 10m which he donated to the church.
Comments
comments