Singer Sheebah Karungi's biological father Ahamada Kimali Musoke passed on Sunday and was laid to rest on Monday. However, according to reports, he died when he had reportedly disowned the singer and stated in his will that he did not wish the singer to bury him.
In a twist of events, Sheebah's mother Edith Kabazungu has come out to defend her daughter. In a tell-all interview with a local newspaper, Edith narrated how she met Sheebah's father. She revealed that her daughter's biological father is her husband's brother.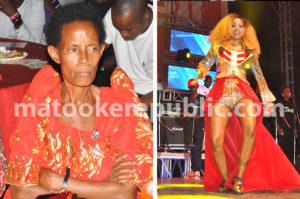 "I was married to a man called Lutwama ( refused to reveal second name) and we had six children together in Kayanja Buikwe district. One day, my husband's brother Ahmad Kimali Musoke picked interest in me and our secret affair resulted in a child now called Sheebah. I kept this secret from my husband until I couldn't hold it anymore. I later opened up to him one day and let the truth out," Edith told the newspaper.
She furthermore revealed that after breaking the news to her husband Lutwama, she was shocked by his response. He was not bothered and forgave her instantly.
It was sibling rivalry
According to Edith, it was as a result of sibling rivalry that she was not aware of. Musoke had seduced her as a way of revenging on his brother who had had an affair with his wife.
"I later got to know that it was a revenge between the two brothers. My husband Lutwama had also had an affair with Musoke's wife and the two had agreed that revenge would settle all," she said.
However, Sheebah's father started imposing authority on Edith despite her being married.
" After giving birth to Sheebah, Musoke ( Sheeba's father) started ordering me around something I couldn't take in. We fell out. Even when my daughter was grown and started singing, he used to send orders that she should stop pursuing her music career. Remember, he hadn't contributed anything during my daughter's growth. Actually, it's my husband Lutwama ( Musoke's brother) who cared so much for her. He even paid her school fees," she added.
Sheebah went to Kawempe Muslim Primary School, but after S.2 at Midland High School, while living with her mother in Kawempe, she chose to pursue a music dream that was full of frustrations for close to 10 years until she landed her 2016 'Ice Cream' hit song that opened her way to the mainstream.
Comments
comments