Kampala Metropolitan Police arrested American national, Paul Mathias Rogers (Lillian Kaitesi's husband) on allegations of domestic violence and illegal possession of military arms and ammunition.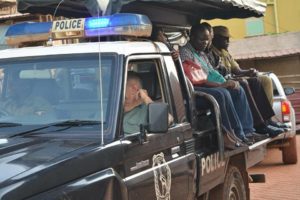 He was found in possession of a "shocking" number of ammunition including US Army uniforms, boxes of ammunition, 153 knives, body armours, among others.
Away from the lethal firearms found in his custody, Ugandans seem amused by the way Police arrested him.
He was gently led to the co-driver's seat in that dreaded Police van! Ugandans have never witnessed such a cool scenario where Police treats suspects in such a humane way.
"Why treat him like a VIP? How is his case different from Kitata who's in court martial?" One Facebook user commented.

Another compared him to a high ranking Police officer.
"Naye mama nga atudde nga ye Dpc ( He is comforatbly seated like the DPC!)", he commented.

One Maria Jackie wondered why he was not put "under" the seat like its the norm.
"Why not put him under the chair like u do other Ugandan suspects", she complained.

Well, as we progress to "Middle Income Status" such scenarios may soon cease to be shocking. Let's pray. He is detained at Katwe Police Station.
Comments
comments