Just four days after singer Mowzey Radio was laid to rest in Kagga Nakawuka, Entebbe, a man identified as George Asiimwe Kateeba hailing from Fort Portal has surfaced claiming he is the biological father of the fallen singer.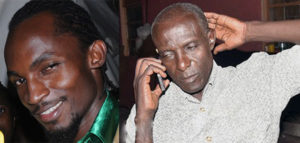 Speaking to the media, George says he wants to apologise to Jane Kasubo (Radio's mother) for the past mistakes. George claims he met Jane in 1985 in Kampala. He says they then spent the night in a hotel where she got pregnant but kept the secret in fear of her mother. He adds that he had known it for a long time that Mowzey was his son. George says he was never able to give his 'son' a name.
George says he will organise elders to persuade Mowzey Radio's mother to forgive him. He further stated that he is ready also to show Radio's children their rightful paternal family. He is hopeful that Jane Kasubo will give him a listening ear and have the body reburied in Fort Portal.
Comments
comments