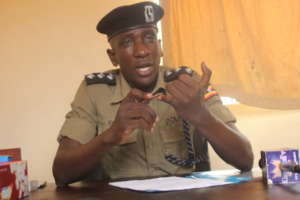 Former Buyende District Police Commander Muhammad Kirumira's appearance before the police disciplinary court has been postponed to a later date yet to be communicated due to TareheSita celebrations.
He was due to appear this morning at the police headquarters in Naguru but the police spokesperson Emilian Kayima says a new date shall be communicated.
Kirumira was arrested on Thursday by the police Flying Squad and charged with scandalous conduct, extortion, corruption and unlawful exercise of authority.
He was forcefully pulled out of his home in Bulenga and later arraigned before the police court and sent to the much dreaded Nalufenya detention center in Jinja District.
He had locked himself inside insisting that he could not allow to be arrested by Professional Standards Unit officers he had earlier arrested for involvement in criminal activities while he was Commander of Old Kampala Police Division.