For the past few weeks, NTV The Beat loyal viewers have been wondering why Douglas Lwanga was not on the much loved show. There were several reports alleging that NTV had fired him. Well, to break it down for you, Douglas Lwanga has taken to his Facebook to elaborate his exit from the Serena based station.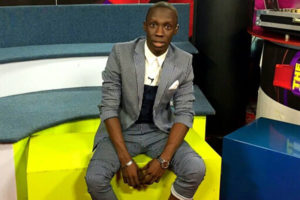 Below is his Facebook post
I have been watching, hearing and seeing stories about me. I have been shocked by them myself as much as you have. Please allow me make some things clear. My journey didn't start 5 years ago. Some of you know my story. How I came on screen , how I have grown, to how the Purple Party started and so much more. The 5 years I have been on NTV have been awesome much as the years I spent doing KATOGO on Record TV. We have done just so much together, won so many awards, grown a huge fan base but most importantly I have been able to witness the continued growth of Ugandan Music and talent, something I love to do with passion.
WHAT HAPPENED
—————————————————
Never in my life have I ever been fired from a job as some people reported, reason being from day one in all companies I have worked, I actually put in 200% in what I do. Passion drives me the most . Those close to me know well.
Sometimes Life has to move on especially if better opportunities arise, that's the only way we grow. Its not a bad thing. We are humans, we always pursue better and more, that's what makes us humans. The principal is simple Just be the best you can be. Never settle. Always strive to learn more, do more, and be more
APPRECIATION
————————————————-
Thank you NTV for opening doors for me. It was a wonderful journey and experience. Going forward I will not be hosting the BEAT . Wow the journey was amazing I don't regret. I also salute the entire team as your support contributed a lot to the success of the show.
WHAT NEXT
——————————————————
Its kitchen time cooking something bigger and better. Be patient and trust me when the time is right, I will let you know my next step. I promise you upgraded entertainment.
PURPLE PARTY
————————————————-
The Purple Party is an independent event registered and run by Brand Purple (U) Ltd. This means our plans still stay and this year's event calendar will be announced soon. The Purple Party Tours resume in April and i will let know where we shall be. As always hosted by me, so we are on 100%.
FINAL REMARKS
—————————————————
Thank you my people for looking out. I have been seeing your messages and love. I'll share more details of whats next. Don't allow anybody out there to tell you the Douglas Story. This is it.
Again thank you for always believing in me my people. The love and support you show me unconditionally is what has brought me this far. Its what keeps me going regardless of the challenges.
Lets do more magic on screen and on the Purple Party like we have always done. Please Let the Douglas Lwanga Fan Know.
Lwanga Douglas