Suspected 'killer' in the Mowzey Radio Entebbe bar incident, Godfrey Wamala has denied being involved in the brawl that eventually took the life of the singer. He stated that the late were having drinks at a table with the bar manager, producer Washington among others.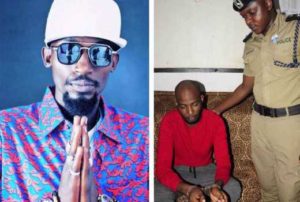 "The table had Hassan Lukwago, George Egesa, Mowzey Radio, Washington and myself," Wamala said during interrogation on Sunday.
This contradicted producer Washington's narrative where he claimed that he did not drink at the bar but stayed put in car resting. Wamala alleged that the late started an argument which later escalated.
"An argument started as he (Radio) asked anyone without money for buying booze to get off the table."
Wamala narrated to the interrogators that the fallen singer later got out Shs 100,000 and placed it on the table asking his colleagues to also do the same to prove they had enough money to buy drinks.
It is said that at this time, Radio picked an argument with Egesa whom he said could not even afford buying  for them Black Label before picking one of the already existing bottles and poured its contents onto Egesa.
"Bouncers were later asked to take Mowzey out. I followed later and found him down with people gathered around him."
He added, "I never touched him and later I went to play video games."
Comments
comments