Socialite Bryan White has come to standing Good Lyfe singer Weasle's rescue by offering him a year long performance deal. Weasle will be the headlining act at the Bryan White Foundation country-wide poverty alleviation activations that kick off next month with a grand do at Kakyeka stadium in Mbarara.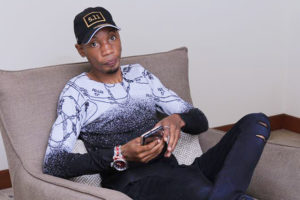 The socialite made the announcement at KK Beach last evening as he revealed plans to expand his charity works to Rwanda!
Bryan said that he wants to make Weasle busy, so that he diverts his mind off people mocking him about his next move; "I clearly understand what Weasle is going through, but I want to make him very busy and help him focus on working harder to sustain the name he has built over the years. I am sure Weasle can stand as a man and make it even bigger," Bryan said.
Meanwhile, Bryan announced that this deal will not just be about Weasle, but he'll be factoring in the late Radio as well.
The socialite said that he is going to pay the same amount that Good Lyfe charged while Mowzey Radio was alive.
"I shall pay Weasle his half and I shall be paying the late Radio's half directly to his mother to help finish his projects and take care of the family," he said.
The socialite also handed over $5000 to the Rwandese artistes that we're led by DJ Pius of the "Agataako" fame and Uncle Austin, to help Rwandsese singers that have difficulty in making videos and recording.
White also promised to do all in his power to ensure Radio gets justice!
Comments
comments