MTN  has today handed over football kits to eight local Kampala football clubs that included; Nsambya FC, Ggaba Fisheries FC, Lusaka Soccer Academy, Banda FC, Banda Stars, Riders FC, Jaguar FC and Kyebando United FC.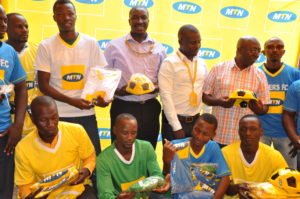 The given 135 kits are part of the Grassroots Football Development Program the telecom company launched December last year and with an aim of extending support to 66 local football teams countrywide.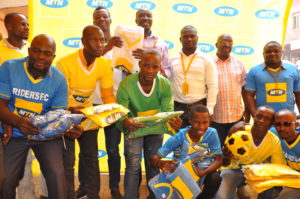 "In this initiative, clubs will receive football uniforms and soccer balls in order to enhance their football experience. These clubs are engaged in grassroots football and not play in any of the organized national league tournaments. They are essentially the first step in nurturing football talent in Kampala," said MTN Area Account Manager for Kampala Central, Ms. Erinah Kanyange Mutumba at the handover of the kits.
 "They do not have a regular source of income but almost every weekend, they have football tournaments they participate in but without proper football kits. It is therefore our hope that through this program more local footballers will be discovered by the larger clubs and eventually play for the national team" she added.
MTN will be handing over football kits to football teams in other parts of the country during the next weeks of this year.
Comments
comments