If there is any befitting Man of the month award winner, it would be Security Minister Gen. Henry Tumukunde. After CMI swung to action and arrested over 30 suspects linked to the gruesome murder of Case Clinic accountant, Gen. Tumukunde is not only keeping his vow to crush criminal gangs but also restoring public trust in security organs.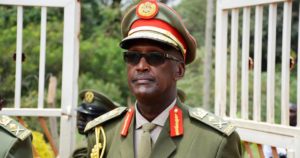 In 2016, the Bush War veteran promised to deflate criminal gangs, especially the notorious 'Kifeesi crew', a ragtag group of pickpockets, robbers and burglars who operate in the city, waylaying residents and travellers.
Tumukunde who previously served as the director general of The internal security organization also promised to equip district internal security organization operatives commonly known as DISOs, observing that it is the best way to encourage intelligence gathering at the grassroots.
Fast forward 2018, CMI is making key investigations and arrests of several high profile names that were previously regarded as "untouchable".
We salute you man of integrity!
Comments
comments