Attention is drawn to recent media reports that alluded to mistruths across the different initiatives being undertaken by the National Information Technology Authority Uganda (NITA-U) in its effort to drive the digitization of the nation.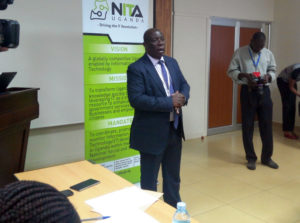 Below are the clarifications we seek to make as related to the misinformation that has unfortunately been shared with the public.
NITA – U charges Government Ministries, Departments & Agencies $300 per Mbps per month for internet connectivity.
 Since 2011, NITA-U has successfully completed three phases of the National Backbone Infrastructure (NBI). With over 2,400km of fiber laid across Uganda, a number of towns have been connected, these include Kampala, Entebbe, Mukono, Jinja,  Bombo, Busia, Tororo, Mbale, Malaba, Kumi, Soroti, Lira, Gulu, Elegu, Masindi, Kyenjojo, Fort Portal, Kasese, Bushenyi,  Masaka, Mutukula, Mbarara, Kabale and the Katuna Border Post.
Additionally, extension of the NBI is planned for the following districts in West Nile; Pakwach, Nebbi, Arua, Yumbe, Koboko and Adjumani.
By the end of Financial Year 17/18, NITA-U plans to have connected 730 MDAs and Local Governments to the backbone. There are currently 321 MDAs and Local Governments (LGs) already connected to the NBI. This means that more MDA/LGs will access reliable internet at a low cost, which translates into significant cost savings for the Government of Uganda.
NITA-U remains committed to digitizing Uganda by reducing the cost of internet connectivity, which is a significant barrier in encouraging the use of Internet across the country. This effort has been deliberate and we are happy to have led the industry in reducing the cost of connectivity to Government offices by over 84% since 2010, when 1Mbps cost a government office $1200 to the current cost of $70 for 1Mbps.
Therefore, the allegations in sections of the media that Government Ministries, Departments &Agencies (MDAs/LG) pay $300 per 1Mps for internet connectivity is therefore false and without merit.  It should be noted that there is a planned reduction in  the cost of internet to Government offices that will take effect in July 2018, it will reduce further in July 2018 to $50 per 1Mbps.
Certification Services Contract irregularly awarded
As per The NITA- Act 2009 and The NITA-U (Certification of Providers of IT Products & Services) Regulations 2016, NITA is mandated to carry out certification of IT service providers.
After an international bidding process, CyberQ Consulting, who are a global company with extensive experience with over 650 clients across 24 countries,  came out as best bidder. Consequently, they partnered with a local organization, Comtel, who were their local partners.
It should be noted that this procurement was carried out as per the Public Procurement and Disposal of Public Assets Authority (PPDA) rules with quality control at each stage to ensure all the bid requirements were met and the consequent award was considered compliant to the PPDA regulations.
The procurement is turn-key in nature, what this means is that CyberQ/Comtel undertook to design, construct and implement the Certification of Providers of IT Products & Services. This involves operational costs associated with running a full-functional certification office with salaried staff, tools of trade, office equipment, a lot of field visits across the country and other related expenses. Therefore the revenue share between CyberQ Consulting and NITA-U took into consideration the nature of the project, turn-key.
Lastly, being a former board member of an institution doesn't preclude one from participating in a commercial activity. This would be unfair and unreasonable.
All care and due process was followed to the satisfaction of all institutions that would ordinarily be involved in the Government procurement process.
The cost of construction of a manholes and buying is high.
This is untrue. A simple check in the market will reveal that a transmission manhole is more than just a cover. It includes culverts, a concrete cover, joint boxes (JB)to mention but a few.
Therefore to state that the cost would be UGX 400,000 would not be a fair assertion. Below is a description of the transmission manholes that NITA-U builds:
Manhole and accessories: 
Manholes are precast with a diameter of 1100mm (outer diameter) and 900mm (inner diameter), 200mm thickness. The duct/pipe entry holes to manhole are placed at the bottom, 100mm from the base such that it lines up with the underground ducts. The manhole base is 1300mm diameter and 100mm thick. The precast concrete top section is 1100mm diameter and 100mm thickness. Accessories include cable bearer that holds the cable slack into one position.
Comments
comments