Celebrated media personality Mr Simon Muyanga Lutaaya who is attached to Mengo's radio station, CBS FM and NBS TV has confirmed to us that an arrest warrant has been issued for his arrest. Muyanga contested to become an MP for Bulamoji in the last election but unfortunately lost to the NRM candidate.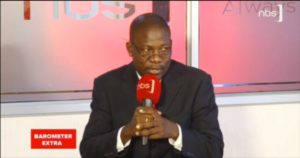 The  host of the 'One on one with Tamale Mirundi' on NBS TV  later filed a court petition claiming the elections were not free and fair but sadly lost and was asked to pay the court fine of UGX 153 million.
Mr. Muyanga failed to appear in court on Wednesday 17th January to explain why he failed to pay the court fine.
This prompted Jinja High Court deputy registrar, Mr Jesse Byaruhanga to issue an arrest warrant. According to the warrant of arrest, Muyanga is to be arrested, sent to Kirinya prison or Nalufenya and his property sold off to recover the money.
Shs296m needed
According to Simon, he is expected to pay Shs296m but the minimum at the moment is Shs153.
"Total amount the court needs is Shs296m but right now, Shs153m is needed to get me off the hook", he told us.
Fundraising campaign
Fellow Journalist Remmy Bahati has taken started an online campaign to raise money for her mentor and friend and save him from jail.
Her Facebook post read, "Dear Friends, You must have heard or read in the press about an arrest warrant issued against Simon Muyanga Lutaaya a long time NBS TV Journalist, News Anchor , Former News Manager, and currently hosting a one on one talk show with Tamale Mirundi. The arrest warrant was issued by Mr.Jesse Byaruhanga the Deputy Registrar of the High Court in Jinja. It is true that he is required to atleast pay over 200M to his oponent who won an election petition against him over voter bribery and election rigging. Muyanga contested to become an MP for Bulamoji in the last but unfortunately lost to the NRM Candidate .  The money is too much for him. I call up on you for your support to overcome this political persecution and injustice. You can reach him on +256772949304 or +256703700309 for mobile money but also his DFCU Bank account No. 01063000220279 for EFT and RTGS contributions. Note: I speak highly of Mr. Muyanga for he has taught, trained and mentored many of us in the media. Your donation can save him jail".
Comments
comments