Wondering why comedian Cotilda Inapo has been off the scene for some time now? We got the answer. We recently discovered why Cotilda who performs at the Comedy Files show at Theatre Labonita on Wednesdays has been missing in action.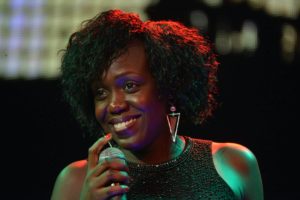 We can reliably confirm that the reason Cotilda is keeping a low profile is because she is heavy. Yes, Cotilda is expecting her first child!
Over the weekend, we bumped into the comedian around Ntinda and she was all smiles as she walked around with her baby bump. Although Cotilda managed to hold a low key wedding in July last year, she was not able to hide the baby bump. Cotilda is married to a one Joseph Omoding. All the best Cotilda!