N'na Fanta Camara a traditional healer in Guinea has been arrested after he gave over 700 women who had been unable to conceive a mixture of leaves, herbs and other medicines that caused them to bloat and look pregnant.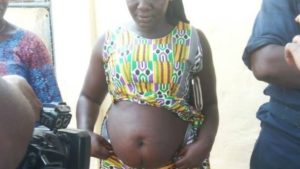 For her services, patients paid $33 (about Shs120K). Police believe Ms Camara made thousands of dollars a month, though she says she was only trying to help. On Tuesday, more than 200 women protested outside the police station in the Guinean capital of Conakry where Ms Camara was held.
Over 700 women aged 17 to 45 are believed to have been affected by Ms Camara's pregnancy "cure".
"During our first visit, she gave us some medicines of leaves and herbs that made us vomit. She assured us that this was good for us. As one continues to take these medicines, the stomach starts to rise a bit. After a while, we visited again, she examined us by just touching our bellies and she declared us pregnant," one woman told BBC.
The women added that Ms Camara told them not to go to a doctor, and once she declared them pregnant, they were expected to give her a chicken and fabrics in thanks.
Some of the women reported looking pregnant for 12 to 16 months. A police doctor has examined 47 of the affected women and said they risked long-term complications from the treatment.