With the new campaign "Tubalemese" launched by the opposition yesterday, Miria Matembe has already labelled it a failure even before its kick off.  According to Miria Matembe, the opposition cannot stage any successful campaign if former FDC president Kizza Besigye is spear heading them. For the former minister, she sees no difference between Besigye and Museveni.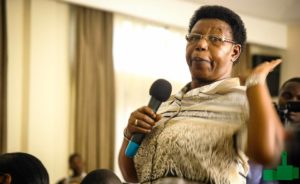 "I oppose the government of this country but these violent ways don't work. As long as opposition can't have another leader apart from Besigye, they will never win in any campaign. Besigye and Museveni are all the same. Opposition must go and diverse proper new strategies which can help you," Matembe stated while appearing on NBS TV Frontline Show.
After the failure of the 'Togikwatako' campaigns, the opposition camp led by Besigye yesterday launched 'Tubalemese' campaign.  Under the campaign, the politicians plans to mobilise citizens to isolate Members of Parliament who voted for the amendment of the constitution. Besigye also vowed to setup a "peoples' government" which will constitute a national assembly.
Comments
comments