While delivering his emotional charged tribute to the departed prelate Archbishop Mpalanyi Nkoyoyo,  Anglican Archbishop, His Grace Stanley Ntagali voiced the church's disappointment over the recently passed Constitutional Amendment Bill 2017 that has been signed into law. The president ignored calls by religious leaders urging him not to sign the bill.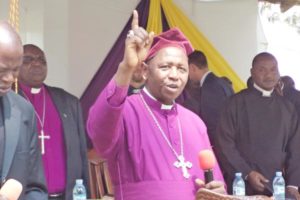 He taunted the MPs stating that they are serving their personal needs instead of representing the views of their electorate.
"We pray that MPs get saved so that they start serving the needs of Ugandans. Some politicians have turned Uganda's motto to 'For God and my stomach' instead of 'For God and my country", he stated.
Ntagali  advised leaders to emulate the late Nkoyoyo who put national interests at a forefront.
"The man we are saying goodbye to today (Nkoyoyo) was a man of vision, a man of creativity. He was a blessing to this nation. Even the president testified. He knew him as a 'mulokole'. What will people say about you when you're dead? A good name is not cheap. It's costly. What legacy are you going to leave behind?"
He thanked the government for according Nkoyoyo's  send-off a state funeral. The departed prelate  was laid to rest at Namugongo Martyrs Shrine at 4pm.
Comments
comments