Self-proclaimed Ghetto Republic president and singer Buchaman was yesterday arrested at his home in Luwafu slums for assaulting a female neighbour, a one Allen Akakunda.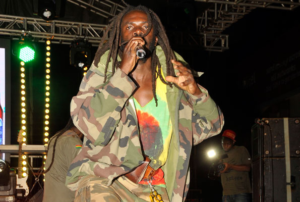 While at Luwafu police station, Akakunda narrated that Buchaman who allegedly feeds on beans and posho almost on daily basis, was resting in his abode while she was busy preparing meat for her husband on her verandah.
A few minutes later Buchaman got out of his room and ordered her to stop cooking claiming that the smell of meat irritated him. According to Akakunda, she requested him to give her five minutes to take the meat inside the house to proceed with her cooking.
However, Buchaman's patience ran low as he poured  the meat and beat her up claiming that true 'rasfarians' don't eat or smell meat.  Police together with local security officials intervened in the matter and Buchaman was arrested and put behind bars.
He was tasked to pay Akakunda Shs100,000 as compensation for the  meat and medication. Buchaman stated that he had no cash on him but made phone calls that  eventually came to his rescue.
Comments
comments