Victoria University, Kampala is currently enrolling students for short courses designed to equip them with knowledge and skills that are in sync with current global demands. The courses include, Digital Marketing, Entrepreneurial Development Studies, SSP-Statistical Package for Social Sciences and Basic Computer Applications.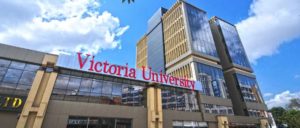 The Courses
The Digital Marketing course will enable students gain a deep understanding of internet marketing and why social media and digital elements are crucial today. Furthermore, students will learn how to create Internet Market Plan and presence, latest e-marketing strategies about SEO, PPC advertising, web analytics, blogging, email marketing and social media. The course will cost Shs360,000 and will last 10 weeks.
For Shs360,000, students who enroll for the SSP- Statistical Package for Social Sciences course, will learn about the most used statistical program for collection, organization and analysis of data. The course lasts 10 weeks.
There is English Language course for beginner, intermediate and Advanced levels at a cost of U$3OO per level.
Under the Holiday Makers' Programme, there is Basic Computer Applications course to give students a full-blend on MS-Office Packages; Ms Word, Ms Power Point, Ms Excel, Ms Access. The course lasts four weeks and costs Shs200,000.
Comments
comments