His Excellency, President for Life, Field Marshal Al Hajj, The Great Kabaka, Conqueror of the British Empire in Africa in general and Uganda in particular, the late Idi Amin Dada is probably unimpressed in the other-world after Winnie Byanyima asked women not to kneel before men.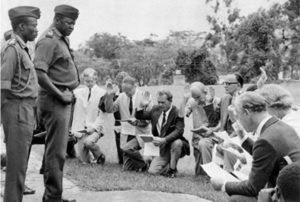 Idi Amin in his prime made white diplomats to kneel before him and swear an oath of allegiance.
In another scenario, they lifted him shoulder-high! Surely Idi Amin was a man in a league of his own!
Comments
comments