Charmant Mushaga is one talented guitarist. He has worked with several top artistes including; Eddy Kenzo on live guitar melodies on songs like "Mbilo Mbilo", "Nice and Lovely", Bebe cool's "Ntuuyo Zange", Juliana Kanyomozi's "Kalibatanya", among others.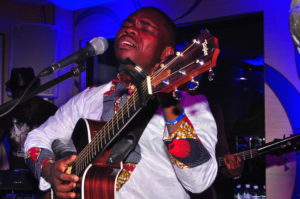 The latest we have landed on is that Charmant is planning to hold up a mega listener's party for his fans in May. In a brief interview with the Matooke Republic, Charmant revealed  he wants to spend most of this year staging live stage performances to promote his band and his original music.
" This year there is so much to do with my own original music, training my own band, then have my listeners' party after releasing my album. I want to concentrate on live from digital music," Charmant stated.
" It sounds very cheap when a jazz artist releases digital music all the time. Fans don't know how you sound. But when you go stage live performance all the time, it actually helps your fans watch you know how you sound," he added.
Charmant Mushaga has worked and shared international platforms with big artists like Isaiah Katumwa, Hugh Masekela, Michell Bonilla, Michael Olson who was a drummer to Michael W Smith and many more.
Comments
comments