Widows are usually inconsolable at burials. However, Ruth Nalweyiso Nkoyoyo, the widow of Archbishop Livingstone Mpalanyi Nkoyoyo, has shown unusual strength. While eulogizing her husband at All Saints Cathedral in Nakasero, she asked mourners not to feel sad about the death of her husband, but instead celebrate his life.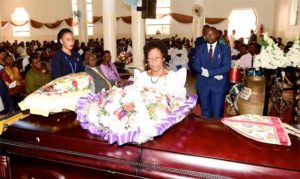 Mrs Nkoyoyo started by singing 'Tukutendereza Yesu', a popular Anglican praise hymn.
"We have come to celebrate the life of my friend. He has gone to be with his God whom he served and loved very much," Ruth told mourners.
The couple got married on May 1, 1965 at St. Paul's Cathedral, Namirembe. Together, they had five children – Isaac, Naomi, Martin (deceased), Margret and Julius Nkoyoyo.
Comments
comments