Oxfam ED and wife to opposition leader Kizza Besigye, Winnie Byanyima has stirred controversy online after she called upon women to stop kneeling. She argues that while kneeling is part of African culture, there are other ways of showing respect.
Since we don't expect Dr. Kizza Besigye to tell us whether Winnie kneels or not, we have dug up the archives and landed on a photo of her kneeling.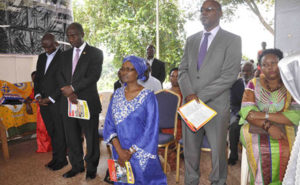 (Thank God for photography). The photo was captured in 2016 in Kampala during a session with religious leaders where she asked them to stop receiving cars as a donation from government.
She abandoned the comfort of the seat unlike the woman on the right. She knelt down with her arms crossed in angelic humility like a well behaved Munyakole lady. Like Teacher Mpamire asks, "Now really, what went wrong?"
Comments
comments