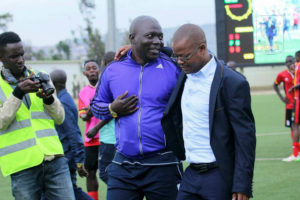 There is change of guard in Uganda Cranes coaching role as Frenchman Sebastien Desabre was unvieiled as head coach yesterday. Fufa president has taken to Facebook to applaud the works of ex-interim coach Moses Basena.
Here is his message.
On behalf of the FUFA and the entire football industry, I will take the opportunity to applaud Mr. Moses Basena for having accepted to take charge of the Uganda Cranes at the sudden departure of Mr. Milutin Sredojević aka Micho. The head coach of the Uganda Cranes is one of the 5 hottest seats in Uganda and well as we can all coach from a distance, it is another thing to sit in there.
Moses undertook a job with full commitment and in our evaluation as FUFA he did a commendable job in the circumstances in the little provided time. We have been encouraged by the development and results obtained in the 2018 CHAN qualification, 2018 World Cup Qualifiers and 2017 CECAFA.
It is not common to find a Ugandan Coach of the personal character of Moses. He is confident, eloquent, principled, direct, religious and yearning to learn more
Of course there seem to be more critics of Moses' output for the usual less detailed analysis of the objectives set, the long term plan and the status of the players. Moses Qualified the Team to CHAN, had a historic performance beating Egypt and a descent performance against Egypt and Congo away. It was definitely a bad day in office against Ghana in Namboole like we all have.
CECAFA is a trial tournament for Uganda where many players are left out to try new ones. We can't try players and dominate at the same time. Despite being available, Walusumbi, Okwi, Jjuko, Mugerwa, and Shaban were all left out of CECAFA to provide starting room for the first timers Madoi, Bakaki, Senkatuka, Kawesa, Awany, Sadam Juma and Kyambadde. Being eliminated at semi final by a very improved yet Uganda's long time boggy sude Zanzibar with such a lean trial squad was not as bad as it is being rated. We must remember how many wanted Micho sacked after semi-final loss to Tanzania in his first CECAFA of 2013 in Mombasa and failure to qualify to 2015 Afcon and later U23 elimination by Mozambique. Any Coach needs a lot of time to establish himself and get judged.
Moses Basena had never been appointed as Head Coach but was interim and it is based on his performance that FUFA has evaluated him to be the first beneficiary of the 10 Ugandan Coaches to be selected for the accelerated *FUFA Elite Coaches Programme*. We believe with this programme, we will soon have Ugandans competing for National Team jobs not only in Uganda but the entire Africa
From FUFA to Moses it is
Gracias, Merci, Obrigado, Asante, Webale
It is Our Game, It is Our Country
Comments
comments