Joseph Sax aka Kizito Joseph is a 27-year-old instrumentalist. He plays the saxophone. He lent in his melody in various songs like in Mariana by A Pass and For Better, For Worse by Bobi Wine. Moses Abeka had a chat with about his career and upcoming album "Koona".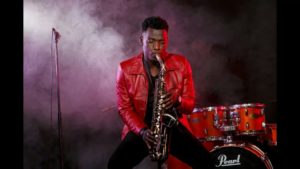 Who is Joseph Sax?
My name is Kizito Joseph. Most people know me as Joseph Sax. I am 27 years old.
So the name Sax comes from saxophone?
Yes, definitely.
How did you get to play the saxophone?
I used to play in a brass band in my primary school. There were several instrunments so there was oppourtunity to learn many instrunments.
How long have you been doing music?
I started when I was in P6 with a brass brand called Mbiko brass band in Jinja. While in secondary school, I studied music and at enrolled for Film and TV production but after, I returned back to music. In 2011, I started working in music studios?
Did you ever get pressure from relatives or parents to pursue anyone else other than music?
Luckily, no! My family has a strong music background. My sister (Jemimah Sanyu) is a singer, my brother (Big Nash) is a music producer and my parents too are involved in music so music flows in our blood.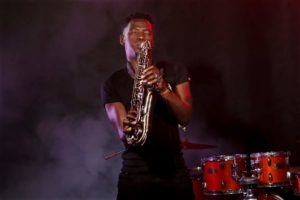 Which artistes have you worked with?
I have worked with several artistes. Iryn Namubiru (Anjagala), A Pass (Mariana), Voltage Music (Cheza, Mama), Bebe Cool (Onepikira), Bobi Wine (For better for worse), Winnie Nwagi (Musaawo), Lyto Boss( True love) among others. You may not know, but the saxophone sounds in those songs was done by me.
Have you ever felt tempted to ditch playing instrunments for singing?
I used to sing in my secondary school but I never gave it time. I don't see myself singing at all. Never!
What have been some of your most memorable moments?
Playing at Isaiah Katatumwa's concert in 2013. I grew up looking up to him and when he called me to perform with him, it was so humbling! I also performed at Qwela Junction Saxxes concert. That was the first time I played my original composition.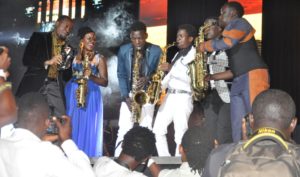 Tell me about your album "Koona"
It's an eleven track album with my original compositions. I have features with Mun-G, Bruno-K, Sanyu Jemimah, Myko Ouma, Pages and Shifah Musisi.
How long have you been working on this album?
I recorded the first song in 2015 and I have been working on it since then.
What impression do you want people to get after listening to Koona?
People have been using the saxophone for slow jazz. I have brought on board a fusion of dance beats to blend the saxophone. That's why the album is called "Koona", which means to dance. I brought in hiphop, club bangers, pop all blended with saxophone.
Sounds impressive! Is the work paying off?
Yeah! I got my first ride Nissan Lauren from music. I am driving VW Golf 4. I am taking care of my siblings, going places. I am a minister at Zoe Fellowship. I am remnant. I also played at Jazz and Soul Safari this year.
The Koona tracklist:
Viola (Elly Wamala rendition)
Friday Night
Musaaswo rendition
Koona ft Deedan
Kibunomu ft Jemimah Sanyu
Omugati ft Mun G
A little more ft Myko Ouma
All I know ft Pages
Reggae music ft Bruno K
Life without you ft Shifah Musisis
He go down rendition ft Myko Ouma
Comments
comments