City events managers have proven to be non-compromising. They easily forget about history and status. At the Pearl of Africa Fashion Awards (PAFA) that took place at Sky Beach recently, former beauty queen Phiona Bizzu was reportedly asked to relocate from the VIP section where she had settled.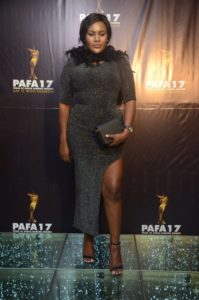 Our informants that kept a close eye revealed that Phiona Bizzu was handled with the grace that benefits a queen but relocated to the ordinary section.
Despite her being cool about it, her facial expression betrayed her and she seemed not comfortable. She later left the show mysteriously.
Since winning the Miss Uganda throne, Bizzu has kept a consistent presence at top social events. This was a bad day. Not nice!
Comments
comments