The health committee of parliament today vowed to block a move by government to hire doctors from Cuba as local media reported on Monday. According to reports, the cabinet  constituted an adhoc committee chaired by health minister Dr Jane Achieng to work out the details of the deal that would see the government hire 200 Cuban doctors.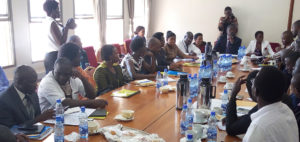 The committee chaired by Dr Michael Bukenya, said instead government should train and motivate our doctors as opposed to looking outside.The proposal comes a week after doctors resumed work after a going on strike for two weeks protesting poor pay.
Uganda Medical Association president yesterday in a press release has described the move as sheer incompetence, overt corruption and treason.
The MPs summoned Ruth Aceng, the minister of Health to give more details about this intended move.
J
Comments
comments