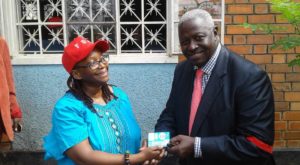 As FDC had its official change of leadership in the presidency, the party also welcomed Stella Nyanzi to the opposition party.
"After much thought, I have joined the Forum for Democratic Change immediately after the swearing in ceremony of the new party president. I am very desperate for change in Uganda. FDC is the political party where I find true fellowship with people invested in ousting Museveni and ending the military dictatorship", she posted on Facebook.
She further called other people to join the party.
'I summon all Ugandans committed to regime change to come end the year in style by joining the FDC! There is a lot of work to be done".
A membership card for the party costs Shs1,000.