In October, government gave the Makerere student Samuel Mugarura, who made a teargas canister prototype, Shs 400m to help him standardize the product. He says that the money was channeled to his account through the council for science and technology.
"My team and I are now working on standardizing the product. We need a product that can compete internationally," he says.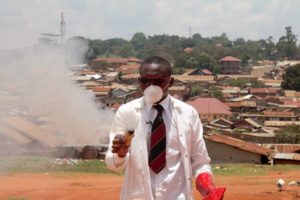 The third year student notes that the ministry of science and technology pledged construction of a production plant for him, on top of allocating them space where they are currently working from to develop their product.
To ensure that his business and product are in accordance with the country's laws, Mugarura says that some government officials that he preferred should remain anonymous visited him for technical advice.
"They analysed the prototype, they guided me to get a patent from Africa Regional Intellectual Property Organisation (ARIPO) in Zimbabwe through Uganda Registration Services Bureau (URSB). So, the standadization is majorly on the packaging and detonation of the carnister," he says.
But all these, he adds, would have remained a dream if it was not for the intervention of Dr Elioda Tumwesigye the minister of science, technology and innovation. He notes that him and other ministry officials gave him moral and financial suppprt.
In mid last year, Mugarura launched his first test of a teargas carnister from Caltec Academy grounds. By then, he was just alone and was still using very rudimentary tools.
However, he now says that more people have been attracted by his idea and the team has since grown.
"We are about 30. These include mechanical and electrical engineers, chemists and environmentalists. We are standardizing the product by making it more environmental friendly, less toxic, cheaper, sustainable and very effective," he says.
But like any new and growing business, Mugarura says he is faced with remuneration challenges. For example, he notes that even though he is currently getting some money from the Shs400m that he got from government to pay this group of professionals, the facilitation is still not enough.
"The money allocated was not enough. However, we were promised more facilitation with time, probably next financial year," he says.
On top of financial challenges, Mugarura also says that the project has since affected his education. For instance, he says that he missed some exams when he was arrested by police for threatening security, immediately after exihibiting his product.
Despite the challenges, Mugarura is still optimistic that his sweat will earn him handsomely. He says that if the governement constructs a production plant for him, then he will start by working hard to become the major supplier to the East African community.
He compares his business in 2020 to a South African teargas company Rhein Daniells that earns over Shs 100 billion annually. Of this, he says that he wants to get at least a half.
As a means of keeping the product more environment-friendly, the 24-year-old said the bi-products of teargas making will be treated to get manure, herbicides and other products.
EDUCATION, FAMILY BACKGROUND
"I was born in Ntambazi village, Kazo sub-county, in Kiruhura district in western uganda. I went to Kazo Parents school for my primary education and Makobore High School in Rukungiri. I also went to Kajjansi progressive school for my secondary education before joining Makerere University."
Born on April 19, 1993 to Benon Arinaitwe and Molly Kyoheirwe, Mugarura is very grateful to President Museveni for supporting his project to the current level.
He is optimistic that if more innovators like him get the necessary suppport, Uganda will then achieve its middle income status by 2020, arguing that all developed countries have invested in people with brains like him.
His message to the youth is that they should invest most of their youthful time and energy in developing the nation rather than politics, betting and Facebooking.
"We as the youth, we have a very big resposibility in developing our country since we are the pillars of every nation. I call upon the youth to be innovative and also seek guidance from our elders who have the experience and the skills as we build for the future," he urges.
For now, Mugarura's innovation, like many others that started from Makerere including Kira EV project, remain to be seen being developed into meaningful businesses.
Comments
comments