Last evening, Jack Pemba, proprietor of Pemba Sports Africa handed over Shs100m cash to  Brian Ahumuza, CEO Abryanz Style and Fashion Awards at press conference held at Serena Hotel.  Yes, Shs100m in cash!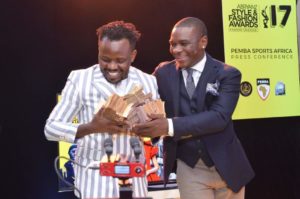 "I have always supported local talent. My company, Pemba sports Africa has supported sports, entertainment and musical awards and several charities. Yet none of my recent ventures is as exciting as partnering with the ASFAS. The awards have continued to put Uganda on the international map, a thing many other sectors have failed. That is why I am excited to announce that I have invested Shs100m in the organization of the ASFAS", he stated.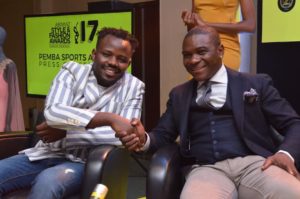 At the press conference, he announced that he has started a clothing line.
I would also like to take this opportunity to announce that my clothing/fashion line, SKP is what we will be fronting at the forthcoming Abryanz Style and Fashion Awards. Which, in a way is me announcing that I have joined the fashion industry and the ASFAS are my first big platform," he ecstatically relayed to the press.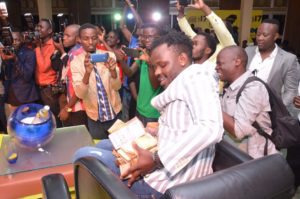 He then handed over the money amid chanting and numerous camera flashes.
Brian Ahumuza, then expressed his gratitude towards Pemba Sports Academy.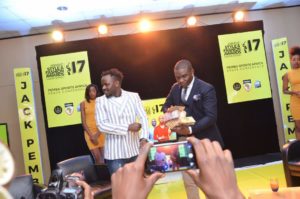 "We are first of all excited that Pemba is sponsoring the awards. As usual, we strive to be better every year. And if in the strife, someone offers a helping hand, it says a lot about our work.I also want to take this opportunity to thank Jack Pemba for sponsoring the awards", Brian stated.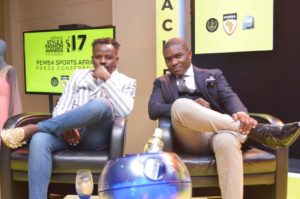 Comments
comments