President Robert Mugabe's famous 'blue house' or 'blue roof' has been sealed off by heavily armed military personnel, Khuluma Afrika has confirmed.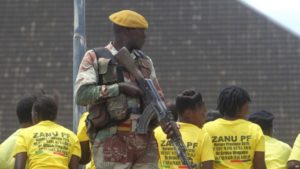 Whilst reports on social media seem to imply that a coup is underway, Zimbabwean investigative news site Khuluma Afrika understands that military presence has been increased there to improve security in the face of growing uncertainty in the country.
President Mugabe  is reportedly not at the house as we speak, and Khuluma Afrika was able to confirm that his motorcade is still at his Munhumutapa offices in the capital.
Additional army units as well as secret service personnel have been dispatched to the offices as well.
Khuluma Afrika has been told that the cordoning of ZBC premises is inline with these security measures.
Comments
comments