The Inspector General of Police, Gen Kale Kayihura has today made another top police reshuffle as he moved AIGP Asan Kasingye from the position of police spokesperson and replaced him with SSP Emilian Kayima who has been the spokesperson for Kampala metropolitan.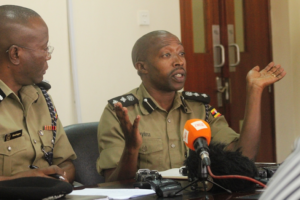 Kasingye  has been a police spokes person for only eight months a position he took after the gunning down of AIGP Andrew Felix Kaweesi. He has been made chief political commissar.
In a letter signed by the IGP it read, "In order to enable the Chief of Political Commissar am delinking once again the office of the police spokesperson from that of the political commissariat."
Kasingye's main role in the new position will be organising   urgent programs of political education to all police units on top of setting up a police school for political education. According to Kayihura, this will help in cleaning police's image to the public.
Comments
comments