A one James Tweheyo has secured court order stopping the electoral commission from carrying out local council elections after he argued that elections can not be held in absence of Advanced Secondary School students who are currently sitting their examinations until December 8.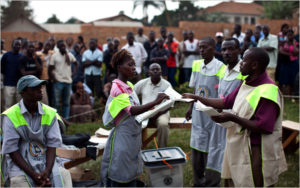 Tweheyo, in the High Court in Kampala, argued that these students have a right to vote and people going to polls on November 21 in their absence is a violation of their rights.
Also, Jinja High Court deputy registrar, Jesse Byaruhanga yesterday issued an interim order restraining the EC from conducting the local council elections for the next 60 days until an earlier application regarding the elections is determined.
Byaruhanga's order followed an application by a concerned citizen Alibwani Allan who is also challenging the elections.
Consequently, the chairperson of the electoral commission Justice Simon Mugenyi Byabakama issued a statement suspending the electoral programme for Administrative Units (LC1 & LC11, and Women Councils and Committee elections.
"The Electoral Commission, in compliance with two court orders issued by High Court at Kampala this 13th day of November 2017 and another one issued by the High Court at Jinja this 13th day of November 2017, which are binding on the Electoral Commission, hereby informs the general public that the elections for village women councils and committees and Elections for Administrative Units (LC1 &LC11) shall not be held as earlier scheduled," reads Byabakama's November 13 statement.
He added that even elections of Village Women Councils and Committees scheduled for today November 14 shall not take place.
Byabakama concluded by saying that EC is still determined to conduct these elections in accordance with the laws.
For now, until these courts rule otherwise, these elections will not take place, and Uganda will remain with those LC1 and LC11 chairpersons that were elected about 15 years back, even though the constitution says that there should be elections on these positions after every five years.
Comments
comments