With the high unemployment rate, scammers are out there milking every oppourtunity in the name of giving jobs at a fee.  Monday 13th November 2017 was an ordinary day to many, but not the more than the hundreds  of job seekers who spent the entire weekend preparing for their first day at work at Java House, a popular restaurant chain.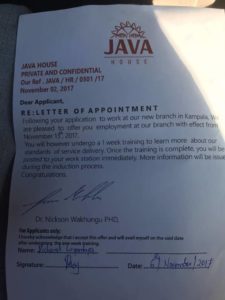 Time check is 8:30 am, management of Java House in Bugolobi was happy to receive unusual number of 'customers'. Unfortunately, the customers were not taking orders. This prompted management to intervene.
Management learnt later that the 'customers' that had gathered at Java House had been conned by fraudsters claiming to be working for Java House. The job seekers told management that each applicant was asked to pay Ugx. 900,000 to secure his job.
However, management informed that it was fake! Damn!
Comments
comments