As always, MTN Uganda and Uganda Athletics Federation (UAF) holds wheelchair and handcycle races a week before the MTN Kampala Marathon.  With a week left to the marathon, this Sunday November 12 will see the races take place at the Kololo Ceremonial Grounds.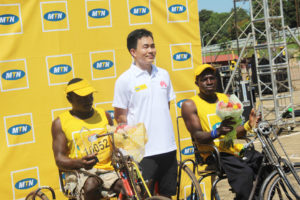 The competition targets disabled women and men as the MTN Corporate Communications Manager.  Valery Oketcho explained; "An opportunity for marathon participants in the wheelchair category to come out and represent their cause. This category is very special to us at MTN and Uganda Athletics Federation and it highlights our support for participation in athletics across the board,."
According to UAF, the competition will involve only two categories, wheelchairs and handcycle categories, of which there is prize money for the top three positions. The top 3 in each of the two races will win prize money, in total valued at Shs11.2m. Women and men who finish first in both races will win Shs1.5m each.
Previously the wheelchair marathoners were grouped together with the general participants. But due to the various challenges including; being pushed out of the way by the other participants, they faced undue stigma, crowding, and inconvenience.
"In some instances, some wheelchair marathon participants were assisted to go faster creating unfair competition and it would surprise you that even able-bodied marathoners would attempt to hitch rides on the wheelchairs! We are therefore offering special attention and the required space for our wheelchair participants to come out to maximize this day," Oketcho stated.
The prize money for the winners will be awarded at the  November 19 2017 MTN Kampala Marathon. Registration for the MTN Kampala Marathon is still ongoing at several MTN service centers. The edition in 2017 will focus on supporting causes, which participants have the choice to choose from. They include; improving maternal health services in Kiswa and Komamboga health centers or replacing cancer-causing asbestos roofing in Kampala schools.
Comments
comments