New socialite in town Bryan White seems to be receiving mixed reactions from "fellow" loaded folks. First it was, Meddie Sentogo stating that the lanky "moneybag" will soon regret his money splashing ways.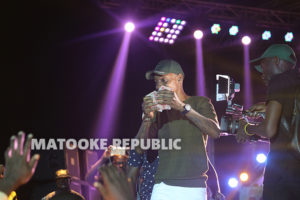 As he spends more time before cameras, he is attracting more attention. Singer Eddy Kenzo is the latest to water down his ways.
"It would make a lot of sense if you give out money off camera. But making a name by splashing money after calling a few journalists is outrageous. He's not doing it genuinely but rather showing off," Kenzo said.
In his defence, Bryan White stated that press coverage is necessary to give evidence to the public and doubters of his intention to help people.
Also singer, King Micheal, formerly "DJ Micheal" told off Kenzo saying Bryan White is right to do what he pleases with his money since they are several richer people who do not care about charity.
Comments
comments