Zimbabwe's president said on Wednesday he fired his deputy and longtime ally for scheming to take power, including by consulting witch doctors. President Robert Mugabe spoke publicly for the first time since dismissing Emmerson Mnangagwa, who had been seen as Mugabe's potential successor. Now Mugabe's wife appears poised for the role.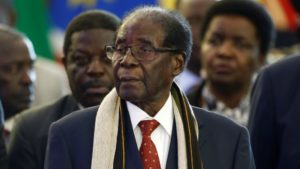 The 93-year-old Mugabe told thousands of cheering supporters that Mnangagwa had plotted to take over since becoming a vice president in 2014. Mnangagwa replaced Joice Mujuru, who had been ousted and accused by Mugabe of using witchcraft to take power.
"We have kicked him out for the same reasons that saw us chasing away Mujuru," Mugabe said of Mnangagwa. The president added: "People were told that I will retire in March but I did not. Upon realizing that I wasn't, he started consulting traditional healers on when I was going to die."
First lady Grace Mugabe is allegedly likely to be appointed Vice-President.  The sacked VP has since fled the country citing threats on his life.
Comments
comments