In his first online address to his fans, Frank Gashumba given glory to God and thanked those who prayed from him.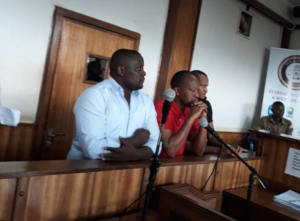 "I want to that those of you who prayed for us. For those of you who spent time on social media advocating for our fundamental rights, I was held for I think 10 days and, not allowed to speak to my lawyers, relatives and friends," he stated.
"Granting me bail was a miracle," he stated ."It was unbelievable. God that protected us from day one, will always protect us. God that always protected our grand parents, will continue protecting us. There is only one person that I worship – there is only one person that I look to, that almighty one, we call him God,"
"Those of you who prayed for me, my brother, thank you so much. If one of us is on chains, no one is free. That is why when i see injustice being committed in this country, i will stand out and be counted. No body should be a judge on social media," he stated, condemning media outlets that he says tried to tarnish his image over what he called "trumped up stupid charges."
Gashumba and his co-accused, Innocent Kasumba alias Simon Mutabazi and Ismail Kiyingi were released on Monday on Shs 20m non-cash bond when they appeared before the Chief Magistrate of Buganda road court, James Ereemye. He adjourned the case to November 20.
Comments
comments