While you are probably bleaching ( for whatever frivolous reasons), one dark-skinned student just got a multi-million contract because of her uniqueness; dark skin!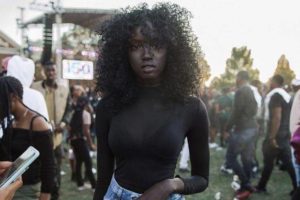 Anok Yai, a sophomore at Plymouth State University in New Hampshire, was in Washington, D.C. last weekend for the historically Black university's homecoming festivities when she was spotted by photographer Steven Hall who was taking photos of stylish attendees. After posting the photo on the internet, it went viral!
"My phone just started vibrating rapidly for a long, long time," Yai told The Boston Globe. "At first, I honestly thought someone made a meme of me or something."
It was the exact opposite reaction with many commenting on how beautiful she was and how she deserved a modeling contract. Since then, Yai has been contacted by several modeling agencies and signed with Next Models on Tuesday.
Well, good riddance with your bleaching creams and lotions!
Comments
comments