Buganda Road Chief Magistrate James Eremye Mawanda has granted businessmen Frank Gashumba and brother Innocent Gashumba bail.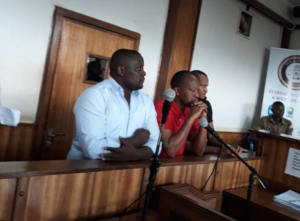 The two were given a Shs20m non cash bond and their sureties asked the same each. The suspects appeared before the court where they were read charges including; Impersonation, forgery and possession of drugs.
Gashumba presented three sureties including MP. Joseph Ssewungu and Joseph Musoke, former LC5 chairman for Kalungu district.
Court also requested that the suspects hand in their passports but their lawyers explained that the passports were confiscated on arrest.
It is alleged that Franco Malingumu Gashumba,Innocent Kasumba and Disans Kiyingi while at Tulip hotel in Kampala with an intent to defraud Kolgvan Dirutop and Mani Meerscghman both Dutch nationals falsely presented themselves as Col.Francis Okello, the Director Logistics, Dr.John Mwine, the Director procurement in the Ministry of Defence before obtaining money so as to offer contracts to them (Dutch) for supplying trucks, troop carriers, heavy machines and water tanks.
Comments
comments