We are living in the era of fake news. Yesterday evening, several reports online indicated that Bebe Cool's wife Zuena Kirema had given birth to a baby boy "at a top city medical centre".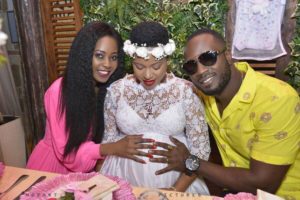 However, the heavily pregnant mother has come out to squash these rumours. Guess what? While these rumours were busy making rounds on social media, she was getting her hands busy, making money.
"Yesterday was a hectic day for me and my team Zuena Events & Cake,i was running around like a headless chicken all in the name of managing 2 Events
You can imagine a heavily pregnant woman managing 2 events & they all had to begin at the same time 3pm…Wedding & Baby shower. My husband,daughter & sister stopped everything they were doing and joined in. Thankfully the day was a succesS.
So i finally get time to sit down and check my phone,to my suprise my watsapp is flooding with congratulatory messages ,i've since failed to answer each & everyone that it's a false rumor going around. When the right time comes me or mwami will surely post it but as for now,am still very pregnant & working as usual pakalast",  she posted on Facebook.
Comments
comments