Coca Cola beverages Africa (CCBA) has today launched an exciting energy drink brand dubbed Power Play. Uganda is the second country in Africa after South Africa to witness and share this new high quality and trust worthy energy drink. And It has been launched under the tagline 'Charginga Ne Power Play' which illustrates the drink's ability for quick and effective energy boost.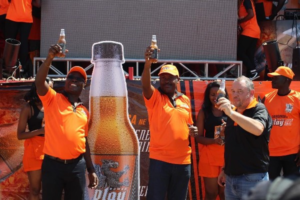 "Power play energy drink is designed to give consumer the best value for money per volume consumed. At only Shs2000 for a 400ml pack, consumers will be guaranteed a uniquely delicious flavor. With its communal, expressive, creative and uplifting style," praised the CCBA Commercial Director Patrick Oyuru.
While speaking at the launch, CCBA Managing director Conrad Niekerk said; "We are proud to introduce a high quality and trustworthy global energy drink into Uganda. With the current trend of busier schedules and more complicated lifestyles, people need an energy boost on a daily basis and this product provides the perfect offering."
The drink has already hit the Ugandan markets and available at all official Coca Cola distributors across the country.
Comments
comments