Nasa leader Raila Odinga says he will not recognise a win by President Uhuru Kenyatta in the controversial repeat poll scheduled for Thursday, signalling a deterioration of the political standoff.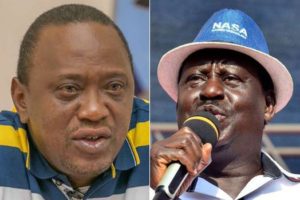 In an interview with theNation, Mr Odinga also ruled out challenging the election outcome in the Supreme Court, like he successfully did following the August 8 elections, resulting in the nullification of President Kenyatta's victory.
Any such challenge, he said, would be tantamount to legitimising the process contrary to Nasa's stated position that the repeat election scheduled for Thursday is a charade.
"It (filing a petition) will be a waste of time. As far as we are concerned, this is not an election. Therefore, it is not a legal matter but a political one which must be dealt with as such," he said.
Nasa's position has been buttressed by the Independent Electoral and Boundaries Commission (IEBC) chair Wafula Chebukati's own admission that he cannot guarantee a credible election this week.
"You heard Chebukati say that he cannot deliver a credible poll. In fact, he said he can't guarantee a fair one. Under such circumstances, even without addressing the issues we raised before, who would in their right frame of mind, agree to participate in such an exercise?" he asked.
The pronouncement by the opposition chief forms part of the roadmap that Nasa is expected to unveil on Wednesday together with his running mate Kalonzo Musyoka and other coalition leaders.
Speaking in Bondo and Kisumu towns on Friday, Mr Odinga stated that he would give the way out of the current political stalemate.
Comments
comments