Unbelievable scenes are unfolding in Rukungiri town after one yet-to-be identified man was reportedly shot dead as Police  fired teargas and live bullets to disperse a crowd of people that had formed around Dr Kizza Besigye as he arrived in Rukungiri town for Togikwatako rally in Rukungiri.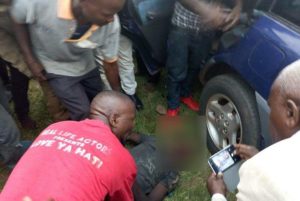 It is suspected that the dead, the man of between 20 and 30 years of age, was hit head by a stray bullet.
Residents are matching with the body while singing the National Anthem!


Besigye made an unexpected arrival in Rukungiri catching the police off guard. For hours police battled with Besigye and his supporters until they let loose tear gas. People were forced to take cover while a few threw rocks at police officers, forcing them to fire live bullets.
Comments
comments