One of Kenya's s top officials in charge of overseeing the Oct. 26 elections resigned Wednesday, fled the country, and said the imminent vote could not be fair.
Rather than contradict her, however, the commission's chairman, Wafula Chebukati, afterward said he did not think a credible election was possible either.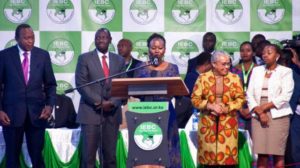 Roselyn Akombe, one of seven election commissioners, said in a statement that the upcoming elections had no chance of being credible and fair and it had become "increasingly difficult" for her to perform her duties at the Independent Electoral and Boundaries Commission (IEBC).
"We need the commission to be courageous and speak out, that this election as planned cannot meet the basic expectations of a credible election," she said. "The commission has become a party to the current crisis. The commission is under siege."
The move is the latest blow to Kenya's 20-year-old democratic process, which has been reeling under accusations of bias and wracked by angry demonstrations. The social unrest and prolonged election process has impacted an economy already faltering under a severe drought.


Instead of defending the commission, its head, Chebukati, held a long news conference later in the day in which he praised Akombe for her work and said he too had not been able to reform the commission
Comments
comments